Johannesburg, Sunday, 17th March 2019 – Bidvest Wits have been crowned 2019 Future Champions Gauteng Cup winners for the second successive year after two days of enthralling action at the WJ Clemments Stadium in Reiger Park, Boksburg that saw the best clubs and schools in the Province clash with the SAFA districts for the coveted first prize.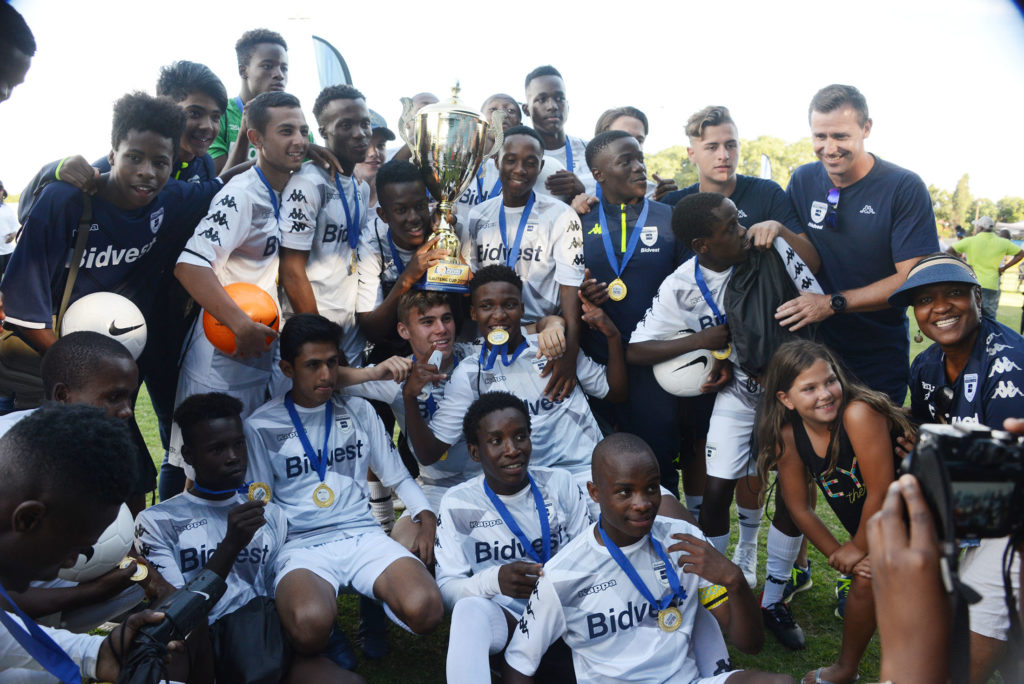 Wits edged Orlando Pirates FC 3-2 on penalties in the final after the teams had played to a 0-0 draw, another tightly-contested clash on a day when there was very little to choose between the teams.
Both sides qualify for the prestigious Future Champions Gauteng International Tournament that will be played at the Nike Football Training Centre in Pimville, Soweto from 25th to 30th March, along with Kaizer Chiefs, who finished third in the Gauteng Cup.
Chiefs edged Highlands Park 3-2 on penalties after their bronze-medal match had finished goalless.
That had followed two tense semi-finals, when Pirates edged Chiefs 1-0 in a mini-Soweto Derby, thanks to a penalty from forward Boitumelo Radiopane.
The other semi-final ended goalless between Wits and Highlands Park, with The Clever Boys holding their nerve to win the shoot-out 4-3.
SAFA Johannesburg and Dr BW Vilakazi Secondary School booked their place in the final of the girls' competition that will be played at the Future Champions Gauteng International Tournament.
SAFA Johannesburg, who made the final last year, topped their pool at the Gauteng Cup with a win and a draw, Kekgethegile Mohasoa bagging a brace as they claimed a decisive 4-1 victory over SAFA Tshwane.
SAFA West Rand did not feature on Sunday, meaning Group A was a straight shoot-out between SAFA Sedibeng and Dr BW Vilakazi Secondary, which the latter won 2-1.
Zara Wilkinson, who was one of the talent search players selected to go to Spain at the end of last year, turned out for SAFA Johannesburg.
Saturday saw the group action in the boys' tournament as Wits edged SAFA Ekurhuleni in Group A on goal-difference after both sides ended on seven points. The teams had played to a 0-0 draw in what proved the shoot-out for top spot in the pool.
Highlands Park knocked SuperSport United into second place in Group B, with the latter's chances stymied when they were held to a 0-0 draw by Clapham High.
Chiefs won a Group C that saw just three points separate the top team in the pool and bottom-placed Jomo Cosmos. Chiefs finished with a win and two draws for five points, with Reshogofaditswe Secondary and SAFA Tshwane joint second with three.
Pirates romped through Group D though as the only side in the first round to win all three of their matches. The decisive match in that pool came when they edged Mamelodi Sundowns 3-2 to book top-spot.
Mamelodi Sundowns forward Thando Buthelezi finished as top-scorer at the Gauteng Cup with five goals.
The Future Champions Gauteng Cup was organised by Global Sports International in conjunction with Gauteng's Department of Sport, Arts, Culture and Recreation, and the Department of Education, as well as the South African Football Association.
Other partners include the PSL, City of Ekurhuleni, LaLiga, Rand Water and Clinix Health.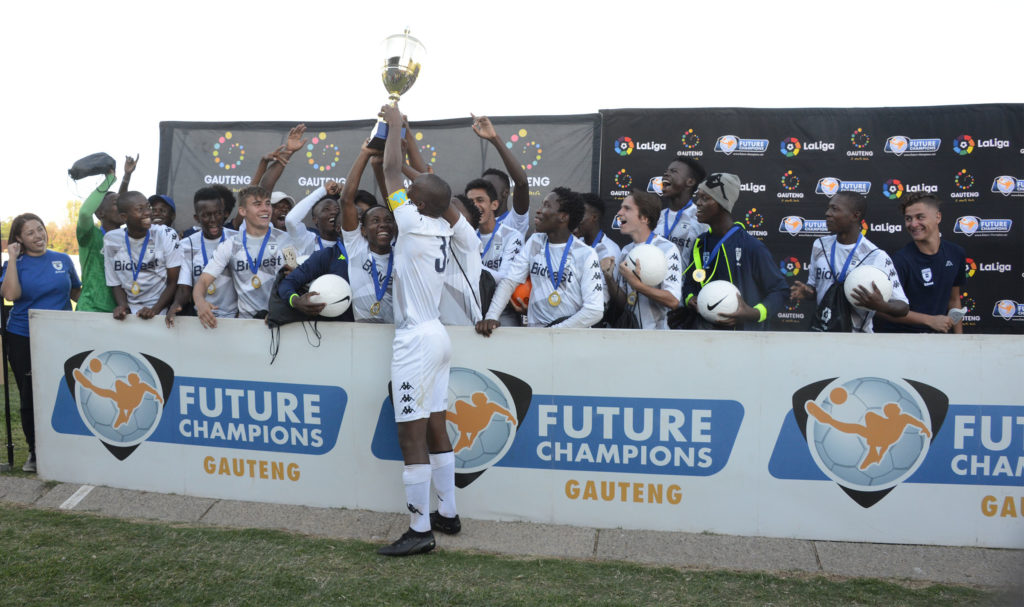 BOYS RESULTS, TABLES AND GOALSCORERS:
GROUP A
SAFA Johannesburg 0-2 SAFA Ekurhuleni
SAFA Ekurhuleni 5-3 Phafogang Secondary
SAFA Johannesburg 3-4 Phafogang Secondary
SAFA Johannesburg 0-2 Bidvest Wits
Phafogang Secondary 0-3 Bidvest Wits
SAFA Ekurhuleni 0-0 Bidvest Wits

GROUP B
SAFA West Rand 0-5 Clapham High
Clapham High 0-4 Highlands Park
SAFA West Rand 1-4 SuperSport United
SAFA West Rand 0-1 Highlands Park
Highlands Park 1-1 SuperSport United
Clapham High 0-0 SuperSport United

GROUP C
SAFA Tshwane 2-2 Reshogofaditswe Secondary
Reshogofaditswe Secondary 1-1 Jomo Cosmos
SAFA Tshwane 0-0 Kaizer Chiefs
SAFA Tshwane 0-0 Jomo Cosmos
Jomo Cosmos 0-1 Kaizer Chiefs
Reshogofaditswe Secondary 1-1 Kaizer Chiefs

GROUP D
SAFA Sedibeng 2-2 Esokwazi Secondary
Esokwazi Secondary 1-7 Mamelodi Sundowns
SAFA Sedibeng 0-1 Orlando Pirates
SAFA Sedibeng 0-3 Mamelodi Sundowns
Mamelodi Sundowns 2-3 Orlando Pirates
Esokwazi Secondary 0-3 Orlando Pirates

SEMI-FINALS
Kaizer Chiefs 0 Orlando Pirates 1 (Radiopane pen)
BidVest Wits 0 Highlands Park 0 – Wits win 4-3 on pens
THIRD-PLACE PLAY-OFF
Kaizer Chiefs 0 Highlands Park 0 – Chiefs win 3-2 on pens
FINAL
Orlando Pirates 0 Bidvest Wits 0 – Wits win 3-2 on pens
GOALSCORERS
5 goals – Thando Buthelezi (Mamelodi Sundowns)
4 – Boitumelo Radiopane (Orlando Pirates)
3 – Jenaceson Jerome Karelse (Mamelodi Sundowns), Mpumelelo Ndaba (SAFA Johannesburg)
2 – Thato Mabunda (Clapham High), Lucky Madibeng (SAFA Ekurhuleni), Lesetja Maja (Clapham High), Ryan Manning (Supersport United), Kamokelo Masondo (Phafogang Secondary), Tebogo Tyrose Masuku (SAFA Ekurhuleni), Nkosi Motshoeni (Esokwazi Secondary), Siphamandla Msezane (Orlando Pirates)
1 – Bheki Cele (Orlando Pirates), Lesego Ditshego (SAFA Ekurhuleni), Lyema Dopolo (Supersport United), Thabani Gumede (Orlando Pirates), Morena Khalane (Esokwazi Secondary), Glen Khumalo (Reshogofaditswe Secondary), Kabelo Lekalakala (Mamelodi Sundowns), Siyabonga Mabena (Supersport United), Akhona Makhanya (Phafogang Secondary), Jordan Marks (Supersport United), Olebogeng Mathibedi (Clapham High), Aiden McCarthy (Kaizer Chiefs), Sabelo Mnguni (Phafogang Secondary), Musa Mphomane (Kaizer Chiefs), Simphiwe Mpungose (Phafogang Secondary), Blessings Mumba (Phafogang Secondary), Lebo Mtshaba (Highlands Park), Motlhalosi Nare (Bidvest Wits), Thato Ndela (SAFA Ekurhuleni), Mduduzi Ngidi (Orlando Pirates), Mpumelelo Nkomo (Mamelodi Sundowns), Karabo Nkontlha (Westrand), Banele Nkosi (SAFA Ekurhuleni), Lulama Nxumalo (Mamelodi Sundowns), Karabelo Ramokepa (Mamelodi Sundowns), Tshegofatso Raphaka (Reshogofaditswe Secondary), Akani Rathokoa (SAFA Tshwane), Lehloholo Selebeleng (SAFA Sedibeng), Luyanda Skhakane (Highlands Park), Sibusiso Skhosana (Reshogofaditswe Secondary), Kgodiso Sukati (Bidvest Wits), Sibanyoni Thembinkosi (SAFA Tshwane), Azola Tshobeni (Orlando Pirates), Riadre Vries (Mamelodi Sundowns), Lerato Zukelwa (SAFA Sedibeng)
GIRLS RESULTS, TABLE AND GOALSCORERS:
Group A
SAFA West Rand 0-3 SAFA Sedibeng (walkover)
Dr BW Vilakazi Secondary 3-0 SAFA West Rand (walkover)
SAFA Sedibeng 1-2 Dr BW Vilakazi Secondary

Group B
SAFA Ekurhuleni 0-1 SAFA Tshwane
SAFA Johannesburg 0-0 SAFA Ekurhuleni
SAFA Johannesburg 4-1 SAFA Tshwane

GOALSCORERS
2 goals – Kekgethegile Mohasoa (SAFA Johannesburg)
1 – Gugulethu Mazibuko (Dr BW Vilakazi Secondary), Nthabiseng Mosename (SAFA Tshwane), Lindokuhle Mtshali (SAFA Tshwane), Sibongile Ntoane (SAFA Sedibeng), Angel Sibanda (Dr BW Vilakazi Secondary), Nkamogeleng Tshoke (SAFA Johannesburg), Zara Wilkinson (SAFA Johannesburg)
For further information, please visit:
http://facebook.com/futurechampions
http://instagram.com/FutureChampsU17