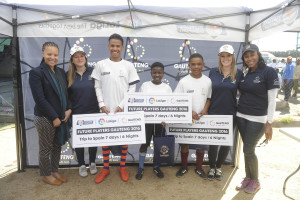 The winners of the 2016 Future Players Gauteng Talent Search are set to head off for a once-in-a-lifetime trip to Spain next month where they will be guests of LaLiga.
Philani Kunene, Prince Moeketsi and Charlton Jade qualified from 100 finalists out of the thousands who showcased their skills across the Province earlier this year.
The trio will be accompanied by Christa Flora Kgamphe who was chosen from the Future Coaches programme, as they take in the sights and sounds of one of the top European footballing nations.
The Future Champions group arrives in Madrid on October 1, before taking a high speed train to Valencia, where they will take in a LaLiga match between the home side and Atletico Madrid on October 2.
That same day they will also attend beach soccer training, one of the fastest growing football disciplines.
The group will also attend a training session at LaLiga side Villarreal, before returning to Madrid for a tour of the fabled Bernabeu stadium that is home to Real Madrid.
The players and coach will then have the chance to attend a training session of Atletico Madrid, where they can view some of the top names in world football being led by Coach Diego Simeone.
The group will arrive home on October 9, having also enjoyed a number of sight-seeing tours away from football and a visit to the South African embassy.
'We wish the Future Champions Gauteng party all the best and we hope this will be a great education for them in many aspects of life and not just football. We look forward to hearing all about their experiences when they return' said Phil Mogodi, Chairman of the Soweto Football Association.