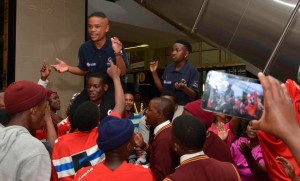 The winners of the 2016 Future Players Gauteng Talent Search programme have recently returned from a life-changing trip to Spain where they received great insight into what it takes to be a professional footballer at the very highest level.
Charlton Jade Alfred, Philane Kunene and Prince Moeketsi, along with Future Coach winner Christa Kgamphe, spent eight days in Europe as guests of the Spanish LaLiga, immersing themselves in the world of football in that country.
The players visited top LaLiga clubs Atletico Madrid, Valencia and Villarreal, and had a tour of Real Madrid's legendary Bernabeu Stadium, among many highlights of the once-in-a-lifetime trip.
The young stars trained with the Under-17 sides of the three LaLiga teams, and held their own, showing the quality they possess and that is in abundance in the Gauteng Province.
And they all admit the experience has made them more determined than ever to build a professional career in the game.
"I really enjoyed my week in Spain, we did so many things," Moeketsi said. "I saw [Fernando] Torres twice and went to three stadiums. I will come back very soon to play for big teams like Real Madrid or Villarreal!
"Thanks to the Gauteng Provincial Government, Future Champions and LaLiga for giving us this trip of a lifetime!" concluded Moeketsi.
Alfred says they were well received and that the feedback from the clubs was positive.
"I especially enjoyed the session with Villarreal and the coaches were very impressed with my performance," he said. "I really wish I could join the club because they treated me like their own brother even though they did not know me!"
He was also delighted with their trip to watch Atletico Madrid's 2-0 victory over Valencia in LaLiga.
"We saw some very famous players like Torres and [Antoine] Griezmann. After the game we went on to the pitch and took pictures. It was amazing." concluded Jade.
Kunene says she will never forget her experience in Spain.
"Everybody was very kind and welcoming to us, we received gifts. We also played Footvolley on the beach in Valencia which was great fun. It was an amazing experience."
Kgamphe says she too enjoyed their visit to Villarreal, where she was asked to take a training session.
"I got to learn about session planning and sticking to the plan, the importance of introducing the ball from the warm-up," she says. "I was allowed to coach my three players and was asked sports questions. Having the first team and the younger teams training in the same facility was motivating enough."
The Future Players initiative is a partnership between the Gauteng Provincial Government and Global Sports International and has been running since 2009.
Gauteng MEC for Sport, Arts, Culture and Recreation, Ms Faith Mazibuko, says she is pleased that the youngsters and coach Kgamphe enjoyed their stay in Spain so much.
"I would like to congratulate them all on the manner in which they represented South Africa and the Gauteng Province in Spain, they were true ambassadors for their country. This trip was a reward for the hard work they had put in to win the Future Players Talent Search and I am delighted they were able to showcase their skills to the Spanish LaLiga clubs. We wish them all the best for their future careers and look forward to seeing the fresh talent we unearth in 2017," Ms Mazibuko says.
The Spanish LaLiga, who have offices in the Gauteng Province as part of their commitment to grow the brand in Africa, were delighted to host the winners.
"For LaLiga it is essential to commit to projects like Future Champions, since grassroots football and the search of young talented players, are part of LaLiga's resolution to give back to the African Continent. Every day, we work on different projects with the aim of conveying the positive values that football embodies. The kids, who had the opportunity to go to Spain, declared it was a very exciting and rewarding experience, and thanks to LaLiga, they could get a bit closer to Spanish football. This is very important to us." said LaLiga Africa Director, Antonio Barradas.